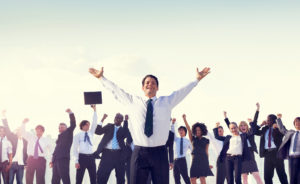 What makes some brands stand out in the crowd while brands that once reigned supreme are now extinct or fighting for their life?  Those that stand out know who they are.  They can tell their story about how they were created and what they value.  But that alone does not make the difference. Stand out companies empower employees to do their job.  They match the  right people with the right position. The leaders of these standout companies engage employees by sharing their vision of the big picture and communicating how employees contribute to its success. As the leadership coach John Maxwell says, people in their "sweet spot" where talent and passion intersect with company need find their work more meaningful and they flourish.  They also are motivated to do the right thing for customers which helps the brand flourish as well. They also feel valued and significant and that is a critical element in retaining  employees and customers.
Engage Employees with Appropriate Compensation
The standout companies that sustain success like Menlo Innovations, Starbucks and others compensate their employees appropriately. Share the wealth and offer a salary commensurate with the tasks and abilities. Next provide the best benefits you can afford. Both of these elements will go a long way toward retaining valuable, talented employees. it costs more than dollars to replace skilled and engaged employees.
Provide Growth Opportunities
Employees also need opportunities to learn and grow.  They want new challenges that engage them and to be encouraged to stretch beyond expectations. Meet with them to understand the path they want to follow.  Coach them to solve their own problems and to tackle projects that help them grow.  Allow them to make mistakes and fail but to learn from them. Mike Abrashoff, former commander of the "best damn ship in the Navy" says his line in the sand was when the consequences of a decision had the potential to kill, or injure someone, waste taxpayer money, or damage the ship, he had to be consulted.  Otherwise he authorized the crew to make their own decisions.
Recognize and Celebrate a Job Well Done.
This is different from reward.  A reward is given as a payment for something specifically asked to be performed.  For example, as a sales rep I was rewarded for exceeding my budget by increments such as 25% or achieving the year's budget by the half year mark.  The first target had a set amount of money and the second offered a free trip.  Recognition and celebration are initiated by observing a job well done or achieving a personal goal and showing your appreciation. A good book on the topic is The Five Languages of Appreciation in the Workplace by Chapman and White.
Provide Opportunities to Use Talents and Hobbies
Engage the special talents and hobbies to bring joy to the employee and growth and profits to the company. Ask an employee to use her photography hobby or writing talents to contribute to the company newsletter. Perhaps another employee would like to take a class outside work that would benefit both the employee and the company. I was delighted when my manager supported my request to learn Spanish. I took classes at Berlitz and the local college.  When I achieved a sufficient level of fluency, I became the liaison for our team and responsible for training in Latin America. What dreams do your employees have?
Now that we understand a bit about engaging and inspiring the employees, how can they help make your brand lovable not only to them but to customers as well?
Share the Stories and Create A Lovable Brand
When you set the big picture of the company for the employees, it included a path for the executives to follow as well. Brands that have a story customers can connect to, engage customers and help the company flourish. Several types of stories top the list. For example stories of underdogs that win over the established giants like the Dollar Shave Club or the personal experience like the Hyundai adventure stories. Tom's shoes not only inspires the employees, but it makes them lovable to customers.  Both employees and customers share the stories of how Tom's matches a pair of shoes for a child in need with every pair purchased for a total of over 50 million pair of shoes. Both employees and customers feel they are doing good. You will see more and more companies realizing that valuing employees and doing something for the good of others, not only creates joy in the workplace, it is a good business decision that makes brands lovable and generates growth and profits.
About the Author: Phyllis Mikolaitis is a sales coach, author and speaker with over 30 years' global experience. She is dedicated to taking you beyond the typical "how to" courses to the heart of persuasion techniques incorporating insights and stories to win the sale. Visit Phyllis and her business partner John Switzer  on other pages on this site  www.salestrainingsolutions.com where you can learn more about storytelling and sales skills. You can get our free eBook on Storytelling, the Secret to Success when you sign up for our by-monthly newsletter.