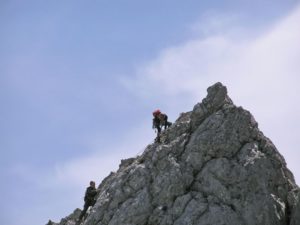 While enjoying the challenge of a 500 piece jigsaw puzzle with my niece Emma, I recalled lessons of my first day learning to be a trainer at Xerox. My coach, Doug Johnson said there were three things that were critical to my success in the classroom as well as the success of my students in engaging customers and selling the products.
First Lesson
He asked me, "What is the first thing you do when faced with the challenge of a jigsaw puzzle?"  I replied, look at the picture on the box so I have a vision of my final result. Then gather all of the pieces by colors and those with a straight edge.   Once I assemble the outer edge , I look for similarities and continue working from the outside moving inward.  Doug explained good communication is based on the same concept. Start by telling a story that will put the message in context and provide the big picture. Then you can begin working inward to the details. This method will allow the listener to set a framework in their brain and establish a link between your concepts and her existing knowledge.
Second Lesson
The second thing Doug taught me is to teach them something new.  It will keep them interested and engaged. It doesn't have to be something revolutionary like the unique materials and shapes of Jane Echelman's sculptures or the pancreatic cancer breakthrough developed by Laura Indolfi and her team (see TedTalks).  It can be a new way of looking at things.  Provide a different perspective and challenge them to think and explore new ideas.  When something is new or different it stirs their sense of curiosity and their imagination. It is with imagination that new products and ways of doing things are created and businesses grow. If you read Carmine Gallo's book Talk Like TED, you find stories of how learning creates a buzz. Great presentations take you on a journey and make you think.  I love the TEDTalks because in just 18 minutes they stir my imagination and make me think.  You can do the same with your listener.
Third Lesson
Doug's third tip was to remember that props and demonstrations can create WOW moments. Think of some of the memorable moments you may have seen live or on video such as Steve Jobs announcement of the iPod and a thousand songs in your pocket or Bill Gates releasing mosquitoes to make the point about eliminating malaria. Your product can help you communicate the message.  I watch the TV program Shark Tank where entrepreneurs pitch their product to the sharks hoping to get them to invest.  The most successful entrepreneurs not only bring their product, they get the Sharks to try it. Too often we rely on photos on PowerPoint to do the job, but a live demonstration is much more effective whenever possible. It makes your presentation come alive and more memorable. Real stories that include positive outcomes or negative consequences will also create visual links in the brain of your audience. The objective in sales or training presentations is to make the message stick.  So, remember these three tips and adapt them to your style. You want to remain your true self as authenticity is a key factor in establishing trust. Work diligently on your talk and be your personal best.
About the Author: Phyllis Mikolaitis is a sales coach, author and speaker with over 30 years' global experience. She is dedicated to taking you beyond the typical "how to" courses to the heart of persuasion techniques incorporating insights and stories to win the sale. Visit Phyllis and her business partner John Switzer at www.salestrainingsolutions.com where you can learn more about storytelling and sales skills. You can get our free eBook on Storytelling, the Secret to Success when you sign up for our by-monthly newsletter.